Let's meet Anja Pöchhacker, an Austrian graphic designer and illustrator currently living and working in Hamburg, Germany. She creates optimistic art portraying body positivity, self-care, and kindness. Anja aims to make this world a brighter place and inspire us to be kinder to others and ourselves. She is the creator of 3 wonderful designs featured in postcard set 1!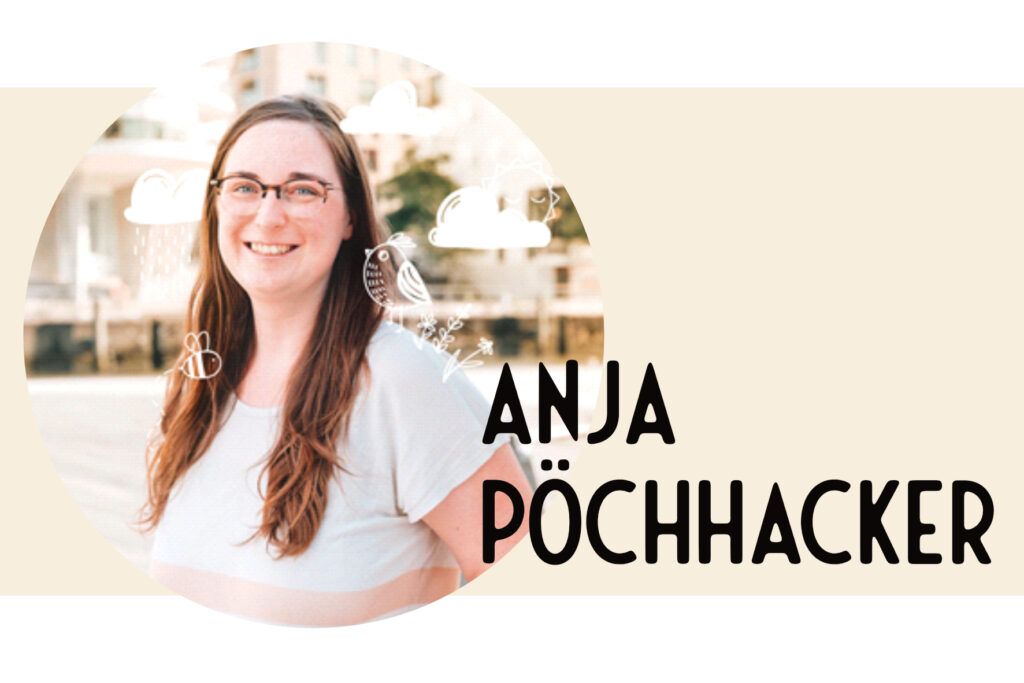 You can follow Anja's work online on Instagram: @an.ja.illustrations
Also, any support of her work is welcome and you can do so by purchasing goodies with her designs on her online shop!
We met Anja online and asked few questions about her creative work and birds:

Hi Anja! It is extremely nice to have you with us in this project, thank you for joining! In your illustrations you seem to play a lot with words, also your two works featured in the postcard Set 1 have a playful note each: 'good-night-owl' and 'loud and proud'. Do these phrases have a special meaning to you? Why did you choose them for your illustrations?
I love playing with words and adding more meaning to my illustrations with it.

The story behind the owl is actually very funny: I was so excited after talking to Postcard Adventures about the project that I couldn't sleep the following night. After lying awake almost the whole night this illustration was literally the first thing I made the next morning. For me this illustration is about the transition of sleep habits during our lifetime. I used to be a complete night owl during university and now I'm more of a good night owl…
It is interesting how some animals and birds are associated with certain human habits, or behavior, especially when relating to sleeping habits. For example: 'Night-owl' or 'early birds get the best worm'. What is the most interesting one you have heard so much? Is there one that you use a lot or identify yourself with?
I really like 'A bird in the hand is worth two in the bush'. (The German version is a bit different: 'A sparrow in the hand is better than a pigeon on the roof') It describes very well how I'm living my life – I try to appreciate the things I have instead of chasing the things I don't have.
Your art is very optimistic and positive, what is inspiring you? What is the main message you are hoping to portray with your art?
I've experienced quite a few bumps in the road during my life and I had to learn to look at the bright side even if life gets dark for a moment. With my art I try to make my version of the bright side visible and relatable for other people.
If I understood correct, illustration and graphic design are not only our profession but also a hobby. How do you separate your work-related creativity from not work-related projects? Do you have (or aim to have) a distinct style outside your work?
That's right, I'm a professional graphic designer and I do a lot of illustration and animation in my job too. I think my background in graphic design is responsible for my curiosity. I don't want to settle and do just one thing in one style over and over again but keep experimenting with shapes and colors. If I had to describe my overall style tho, I would say I'm striving to create cozy art.
What is your favorite bird? Which bird, in your opinion is the most fun to illustrate, why?
Definitely the blue tit – They are just so tiny, adorable, cheeky and brave… I could watch them all day long.
Have you ever helped an injured animal? Would you know how to take care/feed injured bird?
I once rescued a dehydrated swallow out of an attic compartment and gave her some water and some sunflower seeds. It didn't touch the seeds but appreciated the water.